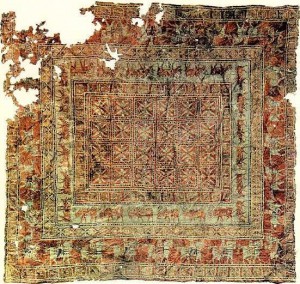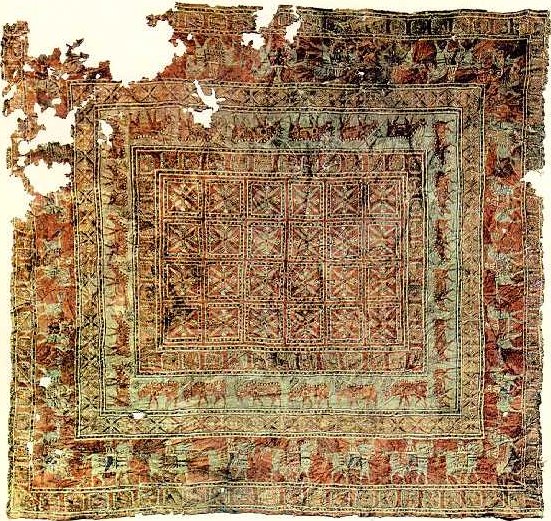 There is something in the process of crafting hand knotted oriental rugs that makes them so precious and valuable. Think of knotting like a cycle of tales within tales and then within tales again that end into a frame story. Thus weavers make a carpet, knot after knot until they complete a work of art. Nomads developed the weaving of hand knotted carpets and rugs around 2,500 years ago as a form of protection from the cold weather, using sheep wool and other kinds of animal hair. The patterns of first carpets involved geometrical, linear and arched motifs. Afterwards, nomads started to use them for decoration and floor coverings but their motifs and designs attracted the attention of noble people. Few of them made it till today, since carpets in general are made of delicate materials that don't resist for long time.
The World's Oldest Carpets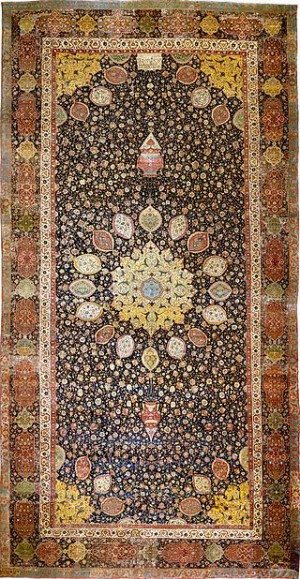 The oldest known carpet is now part of 'The State Hermitage Museum' in St. Petersburg in Russia, which you can observe above. The carpet was found preserved in a block of ice in Siberia in 1947. It is the 'Pazyryk carpet' named after the valley where it was found. It has 3,600 symmetrical double knots per square centimeter and features images of deers and soldiers on horses. Other carpets from other periods have remained undamaged although centuries have passed since the time when they were weaved. One of them is the 'Ardabil carpet'. In the description made by 'Victoria and Albert Museum' in London, where the 'Ardabil' can be seen it says that it is lit for ten minutes on the hour and half-hour in order to preserve its colors.
It is one of a pair of carpets, because the other was used to restore the current 'Ardabil'. Hand knotted carpets take time to create and if the weaver wants to make a unique creation, a lifetime of work will be needed to complete the task. The 'Ardabil' also has the inscription of the weaver singed in verses. Now, hand knotted carpets are considered all the Persian and Oriental rugs that follow the tradition of hand weaving in many countries not only in Iran. Those who own or can purchase an antique rug mainly are art collectors or museums. On the other hand, there are many others that search for an antique carpet for their home. Oriental rugs can be placed anywhere in the house as floor covering or as wall art.