Tabriz Carpets – An Investment Worth to Keep Your Eyes and Feet on the Ground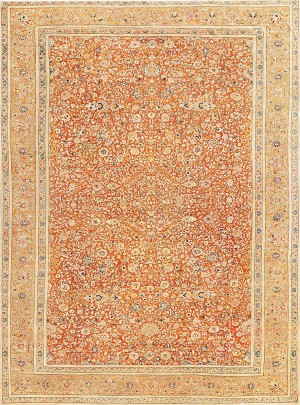 There are persons who collect precious paintings and others that run after rare ancient Persian carpets. The first group finds beauty and enchantment when they lay their eyes on Kandinsky's 'Garden of Love', while the other feel pleasure when they lay their feet on a Tabriz Persian carpet.
In both cases, it is a matter of colors combination. Red-blue-ivory or red-blue-yellow. It's a matter of perspective. Some see harmony on paint and others on a silk hand-woven rug.
This perception defines how they are going to spend considerable amounts of money. Although there can be people who have finances that allow them to take home both, the painting and the carpet.
The weaving style of Tabriz rugs and carpets is their specific feature that makes them more durable and comparable to Kashan rugs. Carpets along with ceramics, pottery, silverwares and wood engravings are some of the most famous handmade products produced in Tabriz. The city located in northwestern Iran is a hub of textile production and the rugs and carpets that are made there vary from excellent and expensive to simple rugs that can be purchased at the local bazaar, which on the other hand is a World Heritage Site. The city's market has always been related to European countries through trade and commerce.
The ancient Tabriz carpets mostly comprise of a combination of three main colors mentioned above, red-blue and ivory. Meanwhile, other colors like light green and brown have been used in newer models. The patterns of Tabriz carpets consist of a central medallion and other elements like cypresses, weeping willows and arabesques and other elements related to the four seasons. Tabriz hand-made carpets can have verses or elements related to important Persian poets. The carpets can be found in various shapes and sizes, but those of the best quality vary from medium to large. An estimate price of a Tabriz carpet can start from 4,000 dollars and mount up to many thousands.
The carpet weavers in the city of Tabriz are based on the Mahi design or design, also known as the fish on the pond. Such design is used everywhere on the carpet from the corners to the central medallion and it consist of a combination of rosettes, vines and leaves that create the image of a fish. This motif has been used by weavers in ancient Persia and other countries in the east since more than six centuries and still remains the main pattern in Tabriz carpets. But it has evolved during the passing of years. A prestigious area for the production of hand-made carpets like Tabriz guarantees the highest quality of rugs.