Discovering the Lion Rugs of Shiraz
When people want to say something and they find words useless they turn to art as one of the few ways for saving their idea from the void of oblivion. But when there is no genre of art ample to express that explicit but formless though, one makes his own art. What those people crave is only to empty the soul, mind and body in order to feel complete at the moment when their idea takes a tangible form.
This is how oriental handicraftsmen took all the most beautiful thoughts that they have collected during the years and the memories inherited from previous generations and dispersed all of them in the field of a sapphire blue carpet and named it the Shiraz rug, after the beauty of the city where it was brought into existence. They make a form of artful sophistication.
Shiraz is the cultural capital of Iran. It is the resting place of Hafez and Saadi, two of the Persian poets that wrote about love and spirituality and still continue to have a strong influence on Iranian culture. It is a city of poets, literature, gardens, wine, flowers and nightingales. Those who look in details can see that all these elements are included in the designs of rugs and carpets. These carpets are weaved based on a harmonious composition of images created using strong red and brown colors that can enhance every environment and room.
A rug weaved by Shirazi handicraftsmen can always draw the attention, even though a room may be full of precious objects. They create a soft and calm atmosphere and fit in every décor trend from traditional to modern. Shirazi rugs, like all the other Oriental rugs, are valuable elements of decoration and in the case when they are really ancient, they turn into pieces of collection, especially the lion rugs. This is a symbol of majesty and power that is famous among weavers in Shiraz.
Shiraz rugs are woven on wool and cotton foundation with a woolen pile. They are always geometrical. Patterns include small medallions or geometric figures and nomadic patterns. Meanwhile, images of birds, deer, lions, peacocks, gazelles and other animals are part of the rugs' design.
Shiraz rugs may look like Qashqai rugs, due to the influences of this tribe over Shiraz culture and people. Qashqai tribes are nomads that roam around in southern Iran just like they have done during the recent centuries. This tribe has induced some elements in the traditional production of rugs and carpets in the city of Shiraz.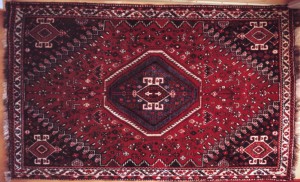 Technical specifications:
Pile: wool yarn
Weft: wool or goathari, usually 2 wefts after very row of knots
Warp: wool or goathair yarn
Knot: symmetrical
Knot-density: 80.000 – 160.000 knots per square metre